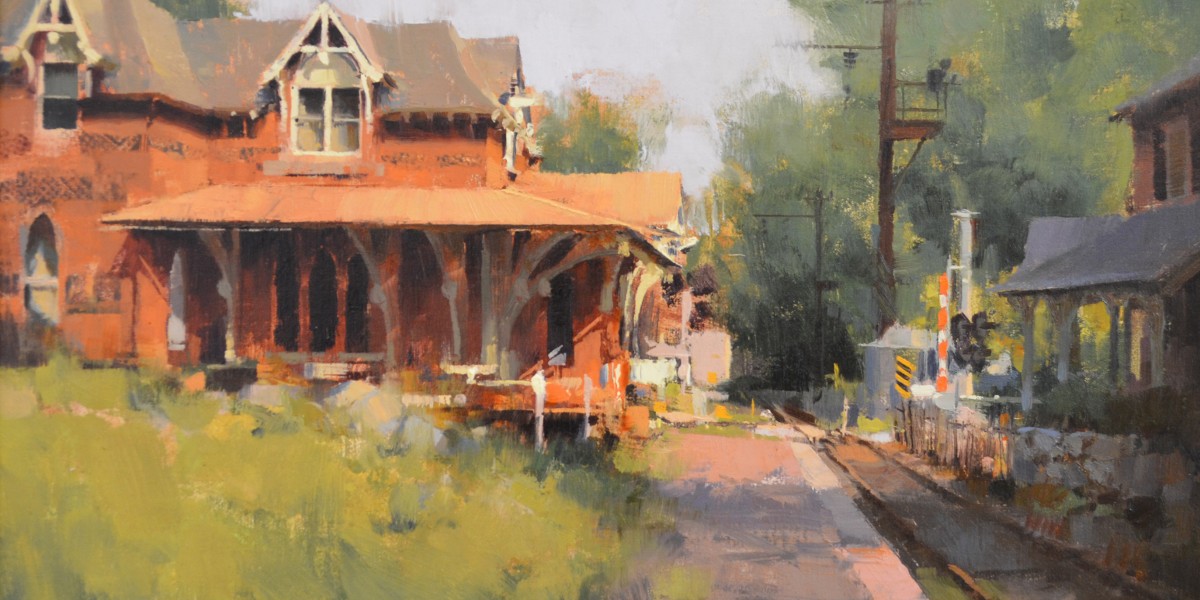 Past Exhibitions
2016 Plein Air Exhibition
10th Anniversary Plein Air Festival
May 14 – June 25, 2016
Wayne Art Center
The Wayne Plein Air Festival welcomes 30 of today's foremost plein air artists from all over the country to Wayne, PA. This year's juror, T. Allen Lawson, will choose the exhibiting painters from over 100 applicants. The artists spend six days creating landscapes within a 20-mile radius of the Wayne Art Center, with the resulting works on display and available for sale in the Wayne Art Center galleries from May 14 through June 25, 2016.
View the Plein Air 2016 Catalog
Meet the Plein Air 2016 Artists
Juror: T. Allen Lawson, ME
Wayne Art Center is pleased to welcome T. Allen Lawson as the juror for the 10th Anniversary of Wayne Art Center's Plein Air Festival. He will judge the entries based on technique, style, concept, composition and originality. It is important to send professional high quality images to best represent your work.
T. Allen Lawson was born and raised in Sheridan, Wyoming where the vast beauty of Wyoming and the allure of the American West became part of him. From an early age, he has been drawn to the quieter side of nature. Over time, Tim has developed a discipline of patiently observing his world, studying often unnoticed rhythms and subtleties of his surroundings. Tim studied drawing and portraiture at the American Academy of Art in Chicago and furthered his formal studies attending the Lyme Academy of Fine Arts in Old Lyme, Connecticut.
Over his career, T. Allen Lawson has won a number of awards including: The John F. & Anna Lee Stacey Scholarship Grant; Red Smith Memorial Award, National Museum of Wildlife Art; Jurors' Choice Award, Buffalo Bill Art Show & Sale; William E. Weiss Purchase Award, Buffalo Bill Historic Center; the Artists' Choice Award, Buffalo Bill Art Show & Sale; and the Golden Thunderbird Award - Best of Show, Maynard Dixon Country. Beyond the awards, he considers himself even more fortunate to have met, and honored to be able to include among his friends, many of the best artists working today.

Calendar of Events

May 9
Artist Welcome Dinner and canvas stamping

May 10-12
Artists paint within 20 miles of Wayne, PA

May 13
Artists paint in Philadelphia and designated locations

May 14
Artists paint in downtown Wayne

May 14
Anniversary Gala and Artist Reception at Wayne Art Center

May 15
Plein Air Lecture by juror T. Allen Lawson

May 16-18
Plein Air Painting Workshop conducted by Mark Boedges

May 14-June 25
10th Anniversary Juried and Invitational Plein Air Exhibition open to the public
Thank you to our 2016 business sponsors:
Presenting Sponsor:
Presenting Sponsor:
West Laurel Hill Cemetery
Archie W. & Grace Berry Foundation
Beneficial Bank
Brandywine Realty Trust
Charles Schwab
McGivney Global Advisors
Radford Senior Advisors, LLC
Ralph J. DiMaio Inc.
RBC Wealth Management
Stradley Ronon Stevens & Young, LLP
Alan McIlvain Company
BB&T Bank
Benner & Sons Painting
The Bryn Mawr Trust Company
C. Raymond Davis & Sons, Inc.
Enliven Planters
First Priority Bank
Frames and Company
Gordon Eadie Associates, Inc.
Harvest Seasonal Grill & Wine Bar
Hotaling Investment Management, LLC
Jimmy Duffy's Catering
Joyce & Associates, PC
Little Black Dress Wines
National Penn
Radnor Property Group
Shreiner Tree Care
Star Print Mail, Inc.
Strada
Wayne Jewelers
Anthony's Coal Fired Pizza
Canson
Chester County Life
City Suburban News
County Lines Magazine
ELAP Services, LLC
Epps Plumbing & Heating
Framers Market Gallery
Gamblin Artists Colors
Golden Artist Colors, Inc.
Gryphon Cafe & Coffee Co.
Main Line Media News
Merion Art & Repro Center
Mid-Atlantic Plein Air Painters Association
Oliver Heating & Cooling
Pennsylvania Trust Company
Plein Air Magazine
Radnor Conservancy
Radnor Township
RayMar Art
ShredWich
SourceTek
Suburban Garden Club
Wayne Magazine
Image: Mark Boedges